The project consists of ground floor,3floors and only 3 units in every floor. The project is distinguished by its modern frontage using weather changes resistant paintings, entrance is covered the most luxurious marble and granite.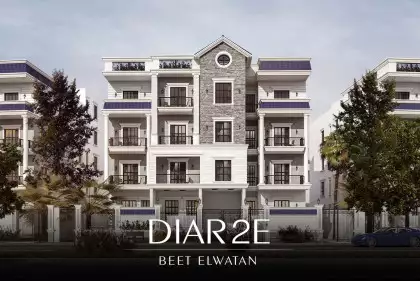 Last updated : 2022-06-13
Project Status :
Current Project
Facilities

Insulation

Entrance
Elevator

Garage

Aluminum isolation

Central Satellite

Conditioner Bracket

Connection Feed & Drain

Storage Room

Electronic gate

Visual Intercom

CCTV System
Show More
17 June 2021
راحة بالك بالدنيا - اسأل عن خبرة الشركة وتاريخها
---
The first advice and the most important reason that provides you with security and peace of mind as you purchase your apartment is the company experience and history, you should ask about and verify the company experience, size of business on the ground and its history in the field of construction and real estate development. At Diar Real Estate Investments, we offer you solutions and residential as well as commercial projects with more than 40 years of experience with the largest recorded prequalification /previous business land registry in the fifth residential complex.