The project consists of a garage, round floor and 3 floors, it has luxurious entrances made from marble and granite. For more security it has a complete security system containing security services, security camera and electronic garage.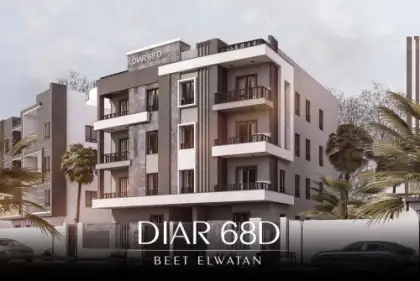 Last updated : 2022-03-17
Project Status :
Current Project
Facilities

Insulation

Entrance
Elevator

Garage

Aluminum isolation

Central Satellite

Conditioner Bracket

Connection Feed & Drain

Storage Room

Electronic gate

Visual Intercom

CCTV System
Show More
06 April 2020
Beet El Wattan District
---


Beet El wattan district in 5th settlement in New Cairo is one of the biggest districts in New Cairo and it consists of 8 regions in addition to more districts and South Suez district,every district consists of several regions,some lands was allocated in dollars and rest of lands were announced by New Urban Communities Authority for workers abroad.
General location for
Beet El Wattan
:
The most important features fot Beet El-Watan it's directly connected with main axises:
North:Suez road and North 90 street.
South:Mohamed Bin Zyed axis and it's the most importnt axis in New Cairo Capital.
West:Clubs street which includes (Al Ahly Club-Police Club-Al Gezira Club)
It's near a lot of large communities like:New Capital-Future City-Madinaty-El Rehab-El Shorouk.
This ensures the elegant of the district and makes it a good oppotunityfor investments.
It's surrounded by a lot of compounds:
South:City Gate.
East:Mountain View City-Palm Hills New Cairo.
West:Layan Residence-Palm Hills Ktameya.
Beet El Wattan
is different from other districts in New cairo by:
Construction conditions for Beet El-Watan:
Building ratio not more than 50% from the area of the ground floor.

Buildings consists of basement,ground floor and 3 floors.

It's allowed to build 2 units in every floor for lands less than 730 m.

It's allowed to build 3 units in every floor for lands starting from 730 m to 950 m and adittion value is paid for 3rd unit.

Be committed by construction law no.119 for year 2008.
Beet El Wattan
features compared by other districts in New Cairo can be summarized in:
It's located in place where it can be reached from all main streets and axises.
Variety in spaces with the best internal division where there are spaces (147m-158m-173-185m-205-255m).
A good opportunity for investment with down payment 10% and instalments up to 84 months.
Beet El-Watan is an elegant district as it is in the middle of a lot of large communities like Madinaty,New Capital,El Rehab and a lot of famous compounds.
Large green spaces in every region.
"The View Zone"which provides a complete service area for all regions.
Most of Beet El-Watan regions have complete facilities and working on the rest of the regions.
Feature internal and external finishing in every building and other comfort and safety features (electronic garage-visual intercome-luxurious elevator -water and thermal insulation-air conditions holders)
Diar Company
is one of the leading companies in Beet El-Watan districts with a variety of projects in all regions (1st region-2nd region-4th region-6rt region-South Suez region-North 1st region...) and a lot of spaces and mini compounds with special services (swimming pool-gym-party hall-kids area-BBQ area)To know more about
apartment for sale in 5th settlement in Beet El-watan
through our projrct's page.