Mini compound Diar El-Watan consists of 3 separated buildings and every building has ground floor and 3 floors,it's characterized by its extra services like swimming pool,gym,party hall, BBQ area and kids area.
Last updated : 2021-05-24
Project Status :
Current Project
Facilities

Isolation

Entrance

Elevator

Garage

Aluminum isolation

Central Satellite

Conditioner Bracket

Connection Feed & Drain
Storage Room

Marble Ladders

Visual Intercom
CCTV System

Electronic gate

Pool

Gym

Festival Hall

Kids Area

Barbeque Area
Show More
09 August 2020
Feautures of North Rehab District in 5th settlement
---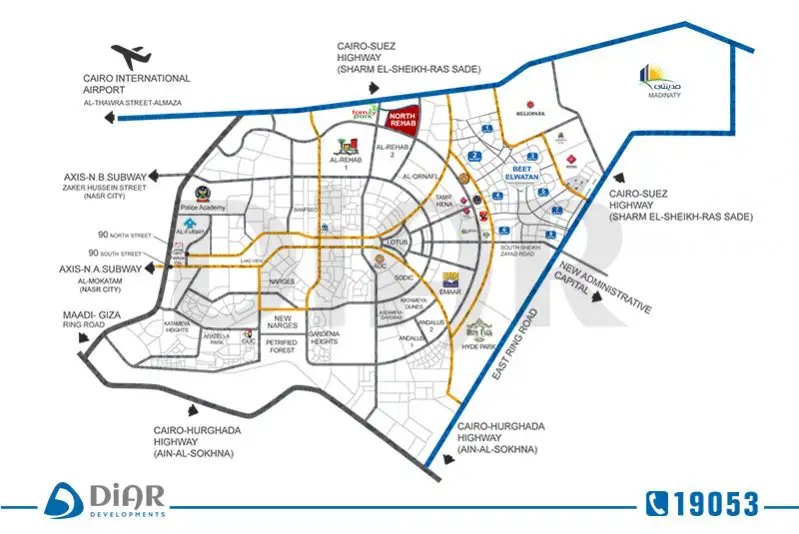 The New urban Communities Authority offered lands located in
North Rehab
in New Cairo within the seventh stage in Beet El-Wattan project with area 518.28 acres , it's located in front of Rehab City in the heart of New Cairo.
General location:It's characterized by its unique location where Suez road in its North , Youssef El-Sebaey and Rehab City in its South and Family Park in its West which is one of the largest entertaining parks in the Middle East with an area 70 acres.
North Rehab
District is characterized by:
It's unique location which makes it a good chance for living and investments.
It's located directly on Suez road.
It's located directly on Youssef El-Sebaey axis in front of Rehab City.
It's near Family Park & Tulip Hotel.
In front of The Eastern Market in Rehab City which includes all services.
It's 5 min. away from New Administrative Capital and Ministries Compound.
It's 5 min. away from South 90th street and The American University.
The building consists of ground floor and 3 floors , every floor contains 2 flats which allows privacy and luxury.
Diar Company is one of the leading companies in North Rehab City where it owns projects in a characterized locations (in front of Rehab City - mini compound - main streets) , To know more about
apartments for sale in 5th settlement in North Rehab district
through our projrcts page.