DIAR 146F
The project consists of basement,garage,ground floor,3 floors and only 2 units in every floor.It's characterized by its weather changes resistant paintings used in its modern frontage and its entrance which is made of granite and marble.
Last updated : 2023-08-07
Project Status :
Previous Project
Location
The project is characterized by its location where it is located on a 2 ways street which connects the 1st region in Beet El-Watan with the North 90th street,also it is close to main service area.Suez road and the "View Zone" area.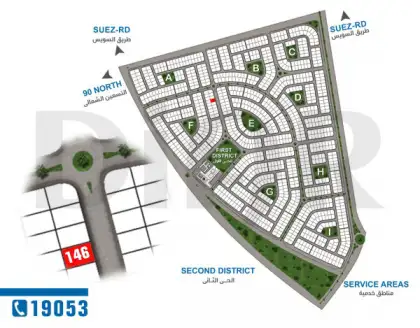 Facilities

Insulation

Entrance
Elevator

Garage

Aluminum isolation

Central Satellite

Conditioner Bracket

Connection Feed & Drain

Storage Room

Electronic gate

Visual Intercom

CCTV System
Design
The project is characterized by utilizing the spaces in every floor 255 m is divided to 3 rooms,living room and 3 bathrooms,for ground floor 235 m is divided to 3 rooms and 3 bathrooms.There is parking and storage room for every unit.