The project consists of ground floor,3floors and only 3 units in every floor. The project is distinguished by its modern frontage using weather changes resistant paintings, entrance is covered the most luxurious marble and granite.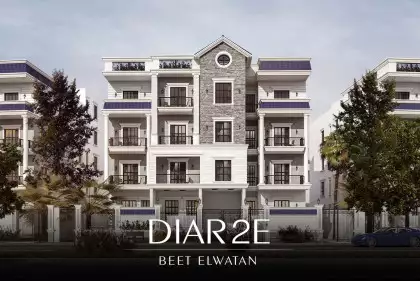 Last updated : 2022-06-13
Project Status :
Current Project
Facilities

Insulation

Entrance
Elevator

Garage

Aluminum isolation

Central Satellite

Conditioner Bracket

Connection Feed & Drain

Storage Room

Electronic gate

Visual Intercom

CCTV System
Show More
15 September 2019
Now the first mini compound "Diar El Wattan" in Beit El Wattan district - 5th settlement.
---
Enjoy Diar El Wattan Compound's services: gym - swimming pool - celebration halls - security cameras - kids area - electronic garage's doors,with down payment starts from 10% and facilities up to 6 years call now 19053.